What is Qortstone?
Qortstone is a combination of natural quartz and other raw materials that are extraordinarily hard and resilient. These characteristics combine to create an ideal surface for kitchen countertops, bathrooms, flooring and wall siding. Our product is comprised from a unique technology, artistic style and durability. Qortstone Engineered Quartz is combined with high purity acid, washed Quartz crystals (93%), high quality Polymer material (7%) & a small amount of inorganic pigment. All of which is then processed under high pressure vacuum conditions, ground and polished to create a fixed thickness. The 93% quartz crystals & polymer ensures its hard & compact structure.
Best in Quality & Style
Qortstone has been known to be one of the premier suppliers of Engineered Quartz Surfaces for Residential & Commercial properties since 2007. We thrive for customer service excellence, our clientele is our main priority. We combine beauty with outstanding performance, best in quality & style for customer service excellence. Qortstone is the product of choice for Architects & Designers.
Our slab sizes are 118" x 55" x 2cm & jumbo 126" x 63" x 2cm 3cm thickness is available by special order for large projects.
Engineered Stone Advantages
Color
The composition of Qortstone Engineered Quartz allows for a consistent depth of color which creates a beautiful surface that withstands time.
Acid Resistant
Qortstone Engineered Quartz surfaces are resistant to all sorts of chemicals. This ensures any future corrosion, color change or fading.
Eco Friendly
Our surfaces consist of SiO2 (Silica Dioxide), which do not contain any heavy or hazardous materials.
Stain Resistant
Qortstone Engineered Quartz has a tight structure, the water absorption rate is lower than 0.08% & that ensures strong resistance to penetration & stains of oil, smoke, any liquids & foods.
Custom Colors
Our specialized design team allows us to create & match any color & design necessary to meet all inspirations of our clients.
Impact Resistant
93% of Qortstone's surfaces are comprised of natural quartz, one of the strongest known materials on the planet. You can be assured that it will always stay in good condition.
Scratch Resistant
Qortstone Quartz comes from a natural mineral resource. The hardness is about 7 MOHS (hardness scale), which is only slightly less than that of a diamond.
Heat-Resistant
Qortstone Engineered Quartz is a fireproof material with a melting point higher than 572 degrees Fahrenheit. This enables you to avoid burn spots and potential cracking.
Guaranteed Quality
We provide high quality product at a very competitive price as well as providing the best customer service in the industry.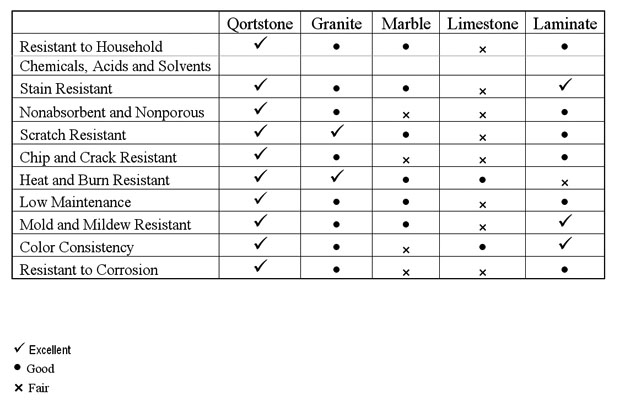 The following tests show the superiority and the outstanding advantages of Qortstone's physical properties compared with various typical natural stone